Sheet-metal plant - laser cutting, bending, deburring
Our sheet-metal plant is furnished to the industry today's requirements. Our partly-developed universal laser cutting machine, CNC bending machine and automatic deburring equipment meet our customer requirements, and we undertake to design and weld frames up to 2500 x 2500 x 1000 mm. Our sheet-metal plant is currently in our 8200 Veszprém, Tüzér street 77 warehouse work center. We look forward to your inquiries, with a short deadline, with high precision.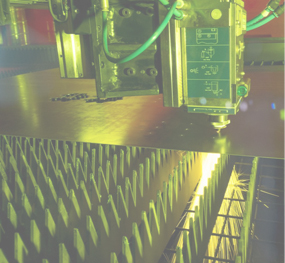 Why the Vesz-Mont 2000 Kft.?
The Vesz-Mont 2000 Kft. is a continuously developing company since 1999. During the last 15 years we have gained great experience in the manufacture of special purpose machines, assembly lines and in any kind of automation task and also in laser and robotic applications. Our goal is to keep the current development in the future and gain more influence on foreign markets. We do anything for our partners: best quality special purpose machines with favorable prices, compliance the deadlines and with complex services.
The content of the service
Laser Cutting
Bending
Automatic deburring
Manufacture of welded machine frames
Purpose machine makers
Sheet-metal industry
Automotive suppliers
Health suppliers
Food suppliers
Automatic deburring machine
Universal laser cutting machine
Contact us

Contact us
Personally
HU-8248 Nemesvámos
Huszárok utca 3.
Phone
Tel.: +36 88 505 730
Contact us
sales@veszmont.hu