TRADE

In the life of Vesz-Mont 2000 Kft, the word trade was first mentioned in 2007. Our company used HIWIN Linear Technology products in quantities that the manufacturer asked if we would be the official Hungarian distributor. Fortunately, due to our technical background and the expertise of our colleagues, we became a HIWIN system partner in 2013, and to date most of the line motors are sold by Vesz-Mont 2000 Kft. In 2014, our trading manager, Dezső Veszprémi managed to start the well-functioning process. Our colleagues with great product knowledge started to deal with sales. In addition to this year, we have also taken over a wide range of Nikon Metrology, which also includes a full service team and demo measurements. In 2016, Universal Robots is a huge chapter in Vesz-Mont's life. With the recognition of collaborative robots, something new can begin. As an official distributor and integrator, we aim to make our customers satisfied with our professional sales services!
UNIVERSAL ROBOTS
The future is in our hands
---
Meet the world's no. 1 in collaborative robots
What is the Universal?
Universal Robots is not just a name. When we say universal we mean it. The UR arms can be implemented in virtually any industry, in any process and by any employee. Around the world, more than 10,000* operating UR robots are testimony to just that – and to the clear objective we've had from the very beginning: To make collaborative robot technology accessible to companies of all sizes.
---
FIVE FAST BENEFITS FOR YOUR BUSINESS:
FAST SET-UP
Even untrained operators are in for a surprise the fi rst time they are to set up a UR robot arm. Unpacking the robot, mounting it and programming the fi rst simple task typically takes less than an hour. As experienced by our customers, the average time to carry out a complete set-up is just half a day.
FLEXIBLE DEPLOYMENT
Production set-ups today often need to be flexible and agile in order to meet changing demands and stay competitive. And Universal Robots won't be the one to limit you; on the contrary, our light-weight UR robot arms are easily moved and re-deployed to new processes, enabling you to automate virtually any manual task, including those with small batches or fast change-overs.
EASY PROGRAMMING
The days of hiring expensive external consulting every time a robot has to be programmed are over. The new reality is this: Operators with no programming experience can quickly program the UR robot arms thanks to patented, intuitive 3D visualization. All he or she needs to do is move the robot arm to the desired waypoints or touch the arrow keys on the easy-to-use touchscreen tablet.
COLLABORATIVE AND SAFE
Universal Robots has been the frontrunner of collaborative robotics since the term was coined so rest assured that you are in the safest of hands when you choose our robots. More than 80% of the UR robot arms in operation worldwide works right next to humans – with no safety guards to shield them. And cobots are more than happy to do the jobs that human operators find repetitive and dull.

FASTEST PAYBACK IN THE INDUSTRY
If you have always considered automation out of reach, it's time to reconsider. The collaborative UR robot arms come with an average payback time of 195 days. That's the fastest in the industry – quite simply because UR robot arms are void of all the added costs traditionally associated with automation such as external programming resources and shielded work cells.
---
Meet the market's most collaborative family

| | | |
| --- | --- | --- |
| UR3 | UR5 | UR10 |
| from 19.750 € | from 23.900 € | from 29.900 € |
| The smallest member of the UR family, the UR3 table-top robot is the perfect choice for light assembly tasks and jobs that call for absolute precision. With 360-degree rotation on all wrist joints and infi nite rotation on the end joint, the UR3 is the most flexible, versatile and collaborative robot on the market today. | The slightly bigger UR5 is ideal for automating low-weight processing tasks like picking, placing and testing. The medium-sized robot arm is easy to program, fast to set up and, just like the other collaborative members of the UR family, offers one of the fastest payback times in the industry. | While the largest robot arm in the UR family and the one with the most muscle power, the UR10 does not compromise on precision. The collaborative robot arm will automate heavier-weight process tasks with payload requirements of up to 10 kg. |
| | | |
---
POSSIBLE APPLICATIONS

NIKON METROLOGY SYSTEMS
NIKON METROLOGY
Vesz-Mont 2000 Kft. As a Hungarian distributor of Nikon Metrology offers 3D coordinate measuring instruments and laser scanners for its customers since July 2014. Due to increased market demands, the optimized budget of the projects and shorter lead times have an increasingly important role in quality assurance in all areas of industry. As a result of our cooperation with Nikon, besides the current high-quality design processes, we are closing the production quality assurance. With this corporate development, we can simultaneously serve our customers at a higher level, and with the experience gained in metrology, we can provide a turnkey alternative to our partners who do not yet have the right measuring instrument or their current equipment no longer meets their current or future challenges.
Nikon Metrology's range of premium quality ALTERA CMM's have been refined to meet the varying needs of manufacturers, both today and in the future. The superior ceramic design, with near perfect stiffness-toweight ratio and greater resistance to temperature shifts, provides consistent performance across all manufacturing environments. Advanced multi-sensor ready technology optimizes CMM throughput and provides the opportunity to broaden the application scope to new materials and components as needs change. Innovative work-flows and intuitive software features make light work of complex inspection tasks and boost productivity. Manufacturers gain a clear and efficient understanding of product conformance, decisions effecting product quality can be made sooner and with greater confidence.
---
Unique accuracy guarantee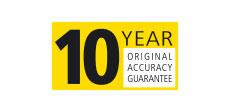 ---
SPECIFICATION
| | | | | |
| --- | --- | --- | --- | --- |
| MODEL | AXIS STROKE (mm) | OVERALL (mm) | WORK PIECE | CMM |
| | X-Y-Z | L-W-H | max. weight | weight(kg) |
| ALTERA 7.5.5 | 711-508-508 | 1573-1257-2505 | 256 | 636 |
| ALTERA 8.7.6 | 813-711-610 | 1673-1460-2705 | 378 | 892 |
| ALTERA 10.7.6 | 1016-711-600 | 1876-1460-2705 | 514 | 1029 |
| ALTERA 15.7.6 | 1524-711-600 | 2384-1460-2575 | 1027 | 1858 |
| ALTERA 10.10.8 | 1016-1016-813 | 1876-1765-2985 | 819 | 1546 |
| ALTERA 12.10.8 | 1220-1016-813 | 2080-1765-2985 | 1040 | 1764 |
| ALTERA 15.10.8 | 1524-1016-813 | 2384-1765-2985 | 1380 | 2289 |
| ALTERA 20.10.8 | 2032-1016-813 | 2892-1765-2985 | 1681 | 3426 |
---
CMM LASER SCANNERS
LC15Dx LASER SCANNER
The LC15Dx is a viable alternative to a tactile probe for an increasing number of high precision CMM applications. Manufacturers gain a better appreciation of the dimensional quality of their products without compromising on cycle times. A wider variety of parts, geometry and materials can be measured more effectively, including many parts too small or fragile for a touch probe. Nikons unique ESP3 technology intelligently adapts the laser settings for each measured point in real-time. A wider range and mix of surface materials, finishes, colors and transitions can be measured more efficiently without user interaction, manual tuning and part spraying, including small and fragile parts. Unwanted reflections are neutralised by an advanced software filter while changes in ambient light are absorbed by a high grade daylight filter.
LC60Dx and LC50Cx digital line scanners:
LC60Dx sets new accuracy and productivity standards by using latest digitizing technologies. It scans nearly all material surfaces at rates never achievable in the past, without requiring manual sensor adjustment. LC50Cx is suited for digitizing freeform objects including parts with hard-to-scan surfaces.
Examples for using LC scanners:
Inspection of sheet metal shapes and features
Assembly problem troubleshooting
Shape validation of machined orthopedic implants
Automotive flush & gap inspection
Inspection and reverse engineering of turbine blades
Investigating shrinkage of casted metal parts or injection-molded plastic components
Inspection of tool wear
Reverse engineering of manually tuned mold and dies, etc.
---
Premium portable metrology
MCAX 7 axis measurement arms

The MCAx Manual Coordinate measuring Arm, is a precise, reliable and easy-to-use portable 7-axis measuring system. It is the perfect partner for the ModelMaker MMDx / MMCx digital handheld laser scanners and Focus 10 Handheld scanning and inspection software. This total solution's accuracy, capability and portability makes it feel perfectly at home in the metrology lab, on the shop floor and in-the-field. The MCAx arm can be equipped with a wide range of probing systems for laser scanning, touch-trigger measurements and continuous scanning. Its flexibility makes this measurement arm the perfect solution for the widest range of measurement tasks.
MMDX Laser scanners

Choose between: high-accuracy, no-compromise MMDx scanners with 50mm, 100mm or 200mm stripe widths; or budget-conscious but effective MMCx scanners with 80mm or 160mm stripe widths
MMDx 50

MMDx 100

MMDx 200

MMCx 80

MMCx 160

Stripe width (Y)

50 mm

100 mm

200 mm

80 mm

160 mm

Stand-off (to near FOV )

95 mm

100 mm

110 mm

100 mm

110 mm

Measuring range (Z)

50 mm

100 mm

150 mm

100 mm

150 mm

Accuracy (1σ) 1

7 µm

16 µm

16 µm

24 µm

Data rate at full FOV

50 Hz

50 Hz

60 Hz

30 Hz

30 Hz

Max. data rate

150 Hz

150 Hz

60 Hz

30 Hz

30 Hz

Points per stripe

1000

1000
1000
800
800

Temperature compensation

Yes

Yes

Yes

No

No

Sensor weight

apx. 400 g

Laser power

Class 2

Fully automatic - per point (Enhanced sensor performance - ESP3)

Compatibility: Nikon Metrology MCAx / MCA II 7-axis / MCA 7-axis (v2.2 & 2.5) Nikon Metrology K-Series K600 / K610 Romer/CimCore Infinite 1.0SC 7-axis / Infinite 2.0SC 7-axis Faro Platinum / Titanium / Fusion 7-axis

* Typical values are 30% better than published accuracy.
---
X-ray and CT technology for industrial applications

Anywhere the internal structure matters, X-ray and CT technology serves as an efficient tool to provide valuable information. Detailed capture and measurement of internal features is often vital for quality control, failure analysis and material research across various industries.
| | |
| --- | --- |
| MPEL: | 3.8+L/50 µm (L mm) |
| PS : | 3 µm |
| PL: | 4 µm |
| Dimensions of the part (maximum): | 150 mm |
| Weight of the part (maximum): | 5 kg |
| Manipulátor: | X 100 mm, Y 300 mm,Z 500 mm, R 360 fok |
| Forrás-detektor távolság: | 800 mm |
| Detector: | 14 bit 7,3 Mpixel |
| Nagyítás: | 2,6 x-től 200 x-ig |
| X-Ray source: | 225 kV /20 W |
| X-Ray spot size: | 1 µm micro focus |
| Safety (DIN 54113-2 IRR99): | < 1 µSv/hr |
| Cabinet dimensions (LxWxH) | 3 211 mm x 1 587 mm x 1 968 mm |
| Weight | 4200 kg |
---
METROLOGY SERVICES
Retrofit an old machine:
Hardver
Software
Laser scanners
3D wage measurement: with Nikon Altera 8.7.6 CMM
HIWIN LINEAR TECHNOLOGY
The motion is our mission!
---
VESZ-MONT 2000 Ltd. is the official trading partner of HIWIN GmbH since 2007. During our ongoing technological developments, the satisfaction of both parties significantly increased the proportion of HIWIN linear technology used. As a result, in 2013 in the field of linear motors, we have become a unique HIWIN SYSTEM PARTNER in Hungary. You can find any HIWIN products at our company:
Linear guideways
Ball screws
Linear axes
Multiple Axis Systems
Motors and Drives
Electric lifting cylinder
Bearings
We can help you in any kind of application!
---
Use our CAD-configurator to make the best application for you: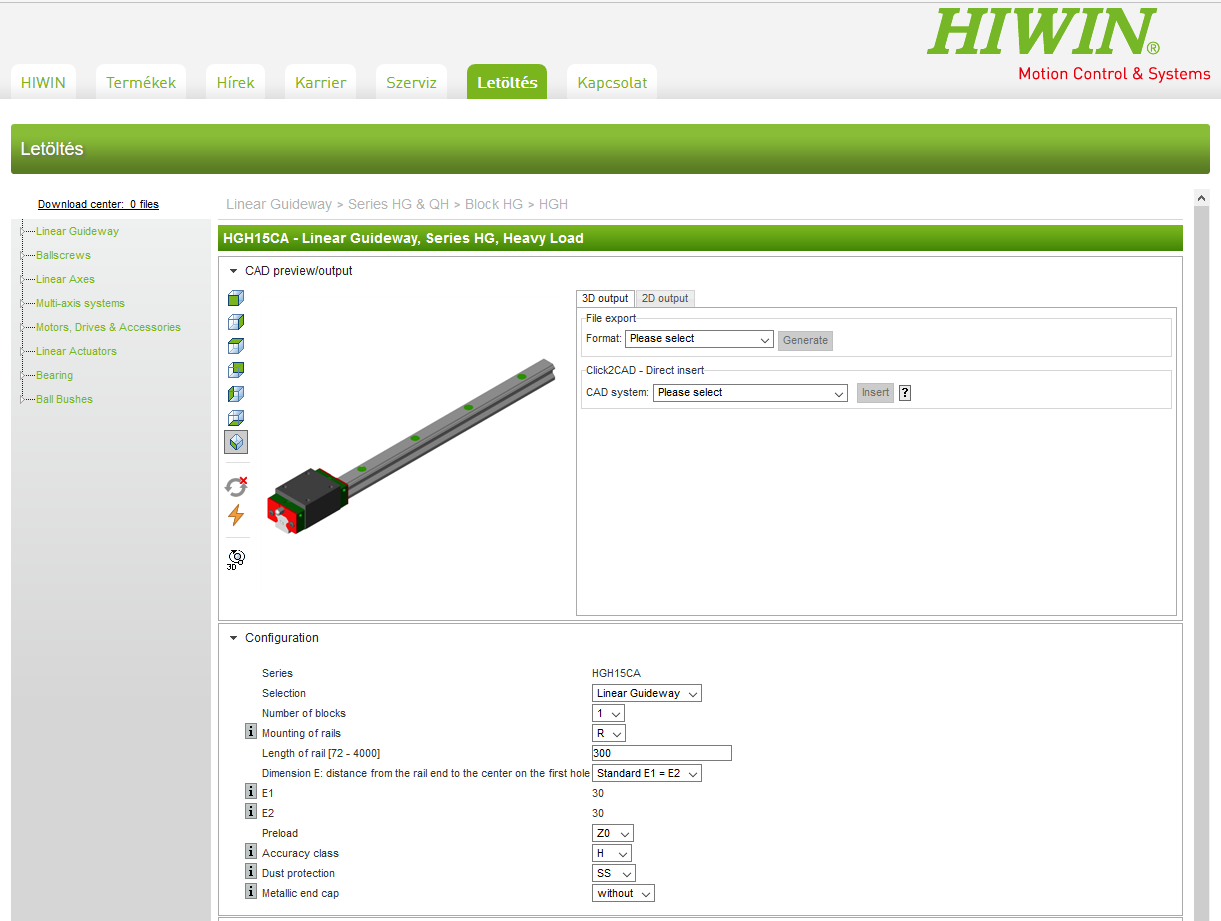 Contact us

Contact us
Personally
HU-8248 Nemesvámos
Huszárok utca 3.
Phone
Tel.: +36 88 505 730
Contact us
sales@veszmont.hu